SITRANS SCM IQ¶
Overview¶
With SITRANS SCM IQ system you can monitor the condition of your plant's mechanical components, like pumps, compressors, or gearboxes from anywhere, 24-7. For this you can use specialized wireless SITRANS MS200 multi-sensors seamlessly connected to Industrial IoT via the industrial gateway SITRANS CC220. Additionally you can inject any existing machinery data into SITRANS SCM IQ machine learning algorithms for anomaly detection.
The system reliably issues warnings of potential asset failures in due time and thus prevents unexpected plant downtime.
Unlock the full potential of SITRANS SCM IQ powerful algorithms and experience the convenience of an out-of-the-box AI solution for increasing uptime and securing your business's future success.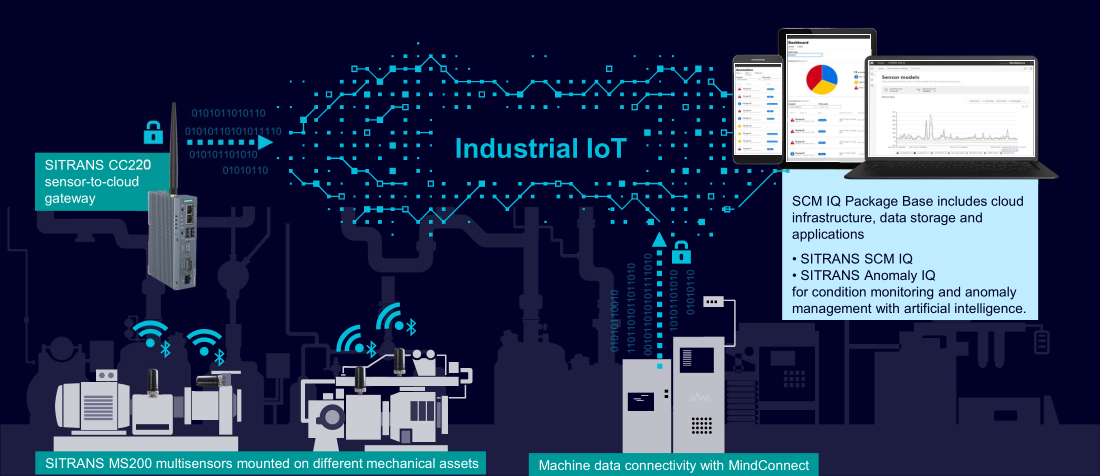 How everyone benefits from SITRANS SCM IQ¶
Out-of-the-box artificial intelligence¶
SITRANS SCM IQ uses two types of anomaly detection algorithms to provide reliable condition monitoring. One algorithm is specialized on consuming the MS200 vibration data to monitor rotating equipment, the other algorithm is more generic an can consume any time-stamped machine data. SITRANS SCM IQ is generally designed as a non-expert system and can be used without knowledge on data science or AI.
Start small, scale up¶
SITRANS SCM IQ has a low initial invest and is also suitable for customers with low digitalization level. The system is easy retrofit and can be used in any industry. You can start with monitoring single assets, easily scaling to complex production lines or plant wide deployment.
Increase uptime, improve maintenance processes, and maximize asset utilization¶
SITRANS SCM IQ not only helps to keep your plant running smoothly, it also reduces the need for costly repairs and time-consuming maintenance. Choose SITRANS SCM IQ today and benefit from asset insights that have been hidden so far. With its easy-to-use interface and comprehensive features, SITRANS SCM IQ is the smart choice for any industrial plant.
Key Features¶
Provide accurate asset data¶
SITRANS SCM IQs' AI continuously analyses the vibration characteristics of your rotating equipment and sends you a notification when an abnormal condition is detected. You and your team can rely on automated condition monitoring and optimize your maintenance schedules accordingly.
The artificial intelligence can furthermore consume any machinery data (e. g. power consumption, rotating speed, operating mode) for anomaly detection.
Benefit from reliable monitoring and intuitive visualization of asset, sensor and diagnostic data.
Gain insights into asset performance¶
Administrate and document asset anomalies and machine outages for immediate distribution within your team - gain a deep insight into each asset performance and its weak spots. Count working hours from formerly unsupervised assets and stay ahead of the game.
Make insightful decisions¶
With a reliable, almost real-time monitoring SITRANS SCM IQ provides meaningful insights to make informed, data-driven decisions faster.
Knowing the condition of the mechanical assets in your process plant 24-7 gives you a clear advantage, because you can identify imminent device failures in good time before an incident occurs. Plan your maintenance activities instead of enduring costly downtimes and conducting ad-hoc measures. Keep your machines healthy without under or over servicing.
Community
Connect and Collaborate with Industrial Professionals and Join the Community!
Click to load comments